With the snow that is blanketing the Midwest and moving east; and the lousy weather in the Southeast, I thought that this activity might be a winner.
Snowballs by Lois Ehlert is one of my favorite winter books for preschoolers.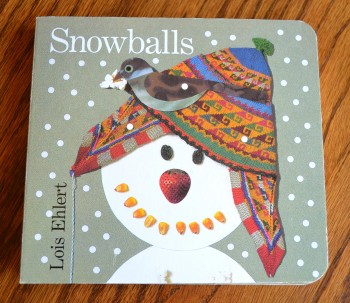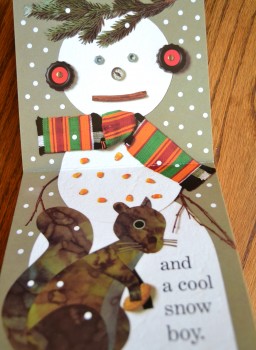 The story is simple. It describes a snowfamily.
What shines are the great illustrations.  So while you enjoy the story you can revel in the language rich collage of eclectic snow people.  To the left is the cool snow boy. There are many opportunities to stretch the story by talking about the pictures such as the nuts for eyes, the cinnamon stick mouth, and pine branch hair. Have you seen a squirrel in your yard?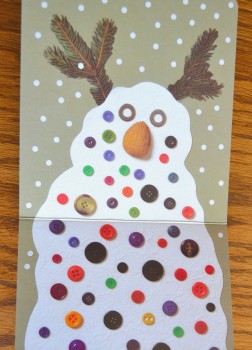 The family snow dog is complete with button spots.
There are many connections that you can make with this story.
1) Read this book after playing in the snow with a cup of hot chocolate.
2) Read this book before you play in the snow. Talk about what you will use to decorate your snow man. Go on a hunt around the house to gather supplies for your snow person.
You don't have to brave the cold weather to make a snowman.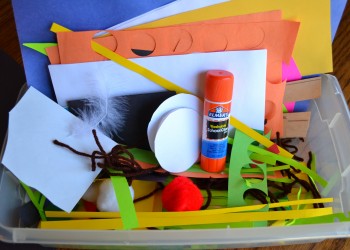 The above box contains my scraps. You can gather up your scraps of paper, yarn, fuzzy balls, cotton balls, stickers, and anything else that is safe and glue-able. You need a few circles, construction paper, and my favorite disappearing purple glue. Give your child the scraps, the glue, and let them have free reign to make their snowman.
If your child is an early 3 year old. The scrap snowman might look like this: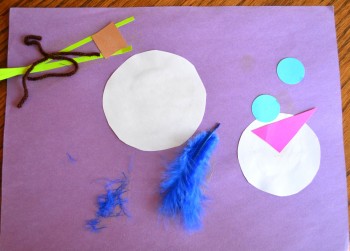 This is typical art for a 3 year old. They are learning the steps to gluing, they are exploring the textures, shapes, and colors. This is perfect. They don't need to be directed to how to put the pieces together, just let them create on their own. You can talk about how feathers feel, the colors, sizes and shapes.
If your child is an older 3 year old or 4 years old, their scrap snowman may look like this: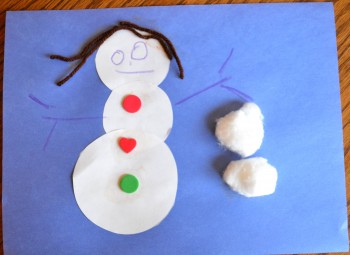 A four year old has mastered the details and steps of 'how to'. They have moved forward and now they can focus on the specifics of the construction They can see a model, such as the snow people in the book,  and form their art to resemble the model.
As always, the main idea is to…
Have fun together!
This activity has been linked to  JDaniel4s Mom ~~ Read. Explore. Learn. Thank you!!!
It has also been linked with A Mommy's Adventure~~stART.  Thank you!!