To save money and time; and to encourage healthy eating this winter I ordered and  purchased a lug (about 10 lb. box) of Michigan blueberries. They are wonderful!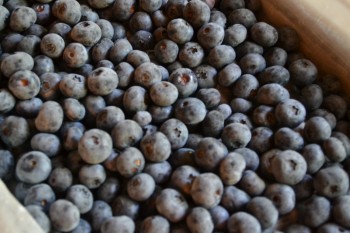 Out of the entire box I threw away three squishy berries.  Thanks Michigan!
I freeze them and use them for smoothies, pies, muffins, pancakes and etc.
Freezing fruit is a time and money saver with such excellent nutritional value that I wanted to share this with you; and encourage you to take advantage of the seasonal fruit in your area.
How to freeze blueberries:
We used blueberries but, again…take advantage of whatever fruit is in season in your area.
***For detailed directions for freezing and canning check this website from Ball. It is a wonderful resource. Not all fruit can be frozen using this method.
1) Wash the berries, allow to them dry or gently pat them dry, and place them in a single layer on a cookie sheet.
2) If you layer them, put wax paper or plastic wrap between the layers. I layered them in this 13X9 inch pan.
3) Place them in a freezer until they are frozen solid.
4) Take them out of the freezer and bag them. You have bagging options. Snack bags hold about a 1/2 cup which is great for smoothies, putting in cereal, and for pancakes. This is our favorite size. Then I also fill a few bags that contain 1, 2, and 4 cups of berries for pies, muffins, and other recipes.
5) Here is the snack bag size: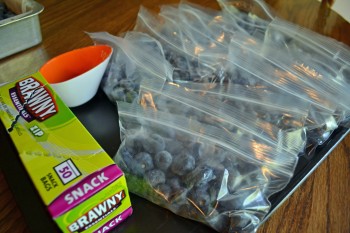 6) Once we have our little bags full we put them in a large zip-top freezer bag. They are ready to be placed back into the freezer for future delicious use! I usually send some to school with my college girl. Her roommate from Guatemala had not ever had blueberries and she  loved them. It was fun to share them with her.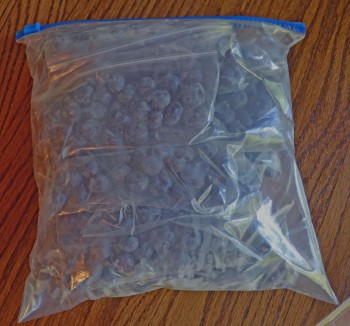 How can you include your child in this process?
1) Let them measure and scoop the fruit  into the bags.
2) Once the bags are filled, count the number of bags you have produced.
3) Talk about the fruit: how it grows, where it comes from, recipes and foods that you like to make, and family memories such as your grandma's blueberry pie. This is excellent for language development and conversational skills, but you are also bonding and building memories together.
4) You are teaching your child life-skills, nutrition, and food preservation.
I remember picking strawberries in my grandma's strawberry patch. We would pick them and chat. I would watch her wash them and 'help' her too.  Then we would pick off the stems and rinse them again. She liked to mash them with a potato masher because when she sprinkled on the sugar, they would became super juicy.  I 'helped' mash the berries too. She was a very patient woman. 🙂
Do you like to cook with your child? What is your favorite recipe?
Have fun cooking and making happy memories together!
We are pleased to be linked to the following great sites. Check them out!