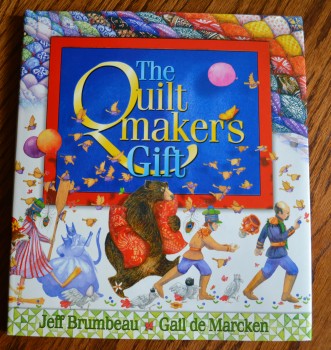 The Quiltmaker's Gift will forever and always be one of my top five children's picture books. The author is Jeff Brumbeau and the illustrator is Gail de Marken.
The Story – The Quiltmaker's Gift
Not only are the illustrations absolutely gorgeous, the story is a lesson in contentment and kindness.  It is the story of a elderly quiltmaker who made beautiful quilts to give to the poor…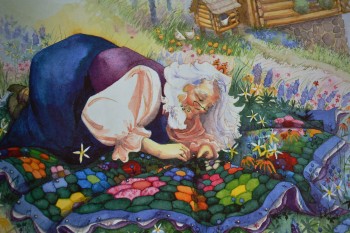 …and a  king who loved things so much they celebrated his birthday twice a year.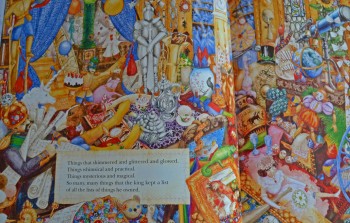 But in spite of all of the beautiful things he owned, he was unhappy.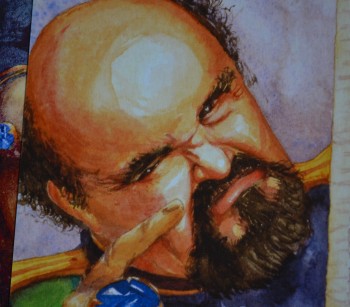 When he found out about the little old quiltmaker, he demanded one of her quilts. She promptly refused and told him he would need to give away everything he owned, and then she would make him a quilt. A battle of wills began.The king placed the quiltmaker into perilous situations to break her will but her kind, generosity rescued her each time.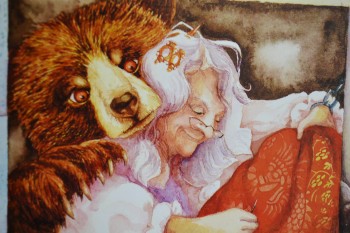 Did the king give away all of his possessions and learn the gift of generosity? Did he receive a beautiful quilt from the quiltmaker? Hmmm….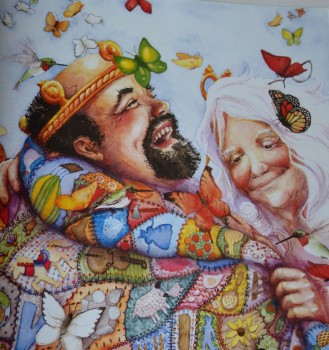 This book is great for older preschoolers and for children in elementary school. The story is lengthy, but if you have younger children who have limited attention span, do feel free to shorten and paraphrase to adjust for their age.
Connect through Art
A simple activity that connects to the story is to make a paper quilt block.
Supplies you need: paper shapes, glue, markers, and paper.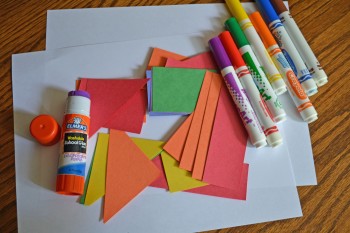 Have your child make a patchwork quilt block by gluing shapes to a piece of paper. They can use markers to make patterns in the 'fabric.'
Another option: You could also use fabric swatches for the quilt pieces.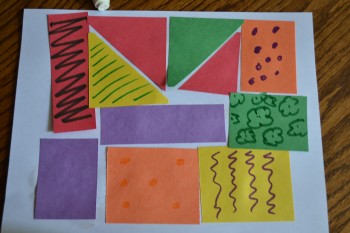 Remember it's not about the final product. It is the process of creating that is important.
Younger preschoolers might have artwork that looks like this: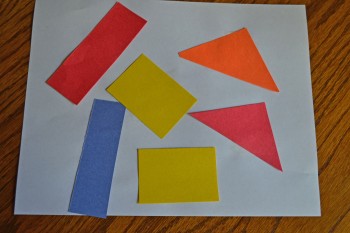 This activity helps children explore patterns, geometry and colors. Older children might like to research a quilt pattern and recreate it.
The website for this book describes the author and illustrator, plus it has a few activities that extend the story; and book recommendations for adults.
Another  extension for this story is to to discuss with your child how we can help and share with others. Just a few ideas are:
Donate unwanted/gently used toys to charity
Write a letter to our folks in the military
Share artwork with elderly neighbors
Use kind words when playing with others
Cook and share a great recipe
Think about the people in your life and collaborate together to come with doable ideas for you and your family.
I used The Quiltmaker's Gift when I was completing an elementary practicum for college. My cooperating teacher had our students write good-bye notes to me on large labels, then she placed them in the front of the book. This is a wonderful gift idea for teachers. I loved it!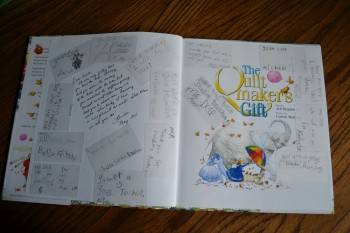 Awww…so sweet, they knew just what to say to make this tired grad student feel good!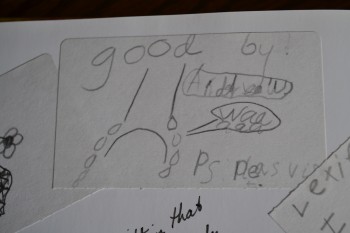 They are all now driving cars. 🙂
Another reason why I love this story is because I knew a wonderful quiltmaker who had snowy white hair. She was a dear friend and made this beautiful quilt for me when I was seven. She took care of me when I was sick and lived a life of generosity. Every stitch was completed with a needle and thread by a work worn hand. No machine stitching at all. Amazing.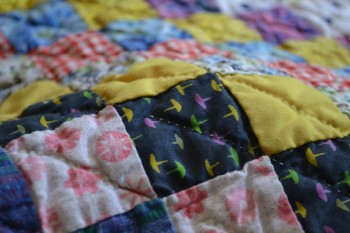 While Sylvia made many color coordinated quilts, she wanted me to have a quilt like she had when she was a  girl. One with various colors from the clothing she wore and a simple pattern.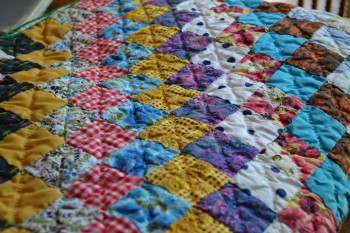 Sylvia read every Little House book to me at least twice. I am thankful she called me her friend and let me tag-a-long in her life.
Who is "The Quiltmaker" in your life?
On Amazon:
Follow us on Pinterest and Facebook
This post is linked at these great sites. Go check them out!
JDaniel4's Mom – Read, Explore, Learn
Sun Scholars – For the Kids Friday