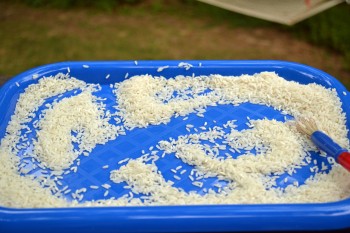 Learning to write isn't just about sitting down with a pencil and paper. Here are a few activities that are simple to do and encourage fine motor skills, creativity, and early writing. These aren't new and all over the web. If you want to leave a link in the comments feel free.
Rice and Writing
You need: rice, a chunky paint brush, and a tray, baking sheet, or shallow box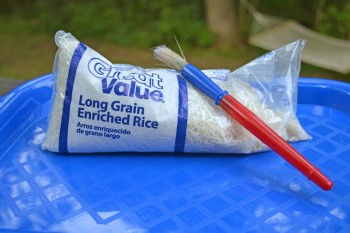 Pour the rice onto the tray.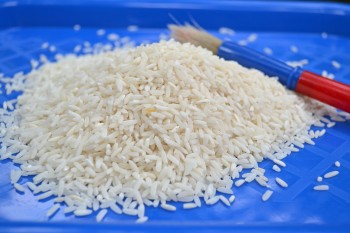 Draw, write, and design with the paint brush, fingers, or hands.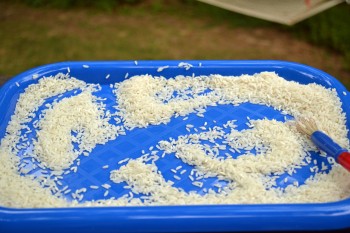 Paint in a Bag
You need:  a freezer ziploc bag, paint, tape, and tray or baking sheet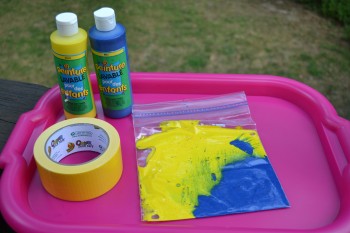 Squirt paint into the bag and close carefully expelling all of the air bubbles. Tape the edges of the bag with the duct tape. Use your fingers or q-tips to create designs. The effect is very fun!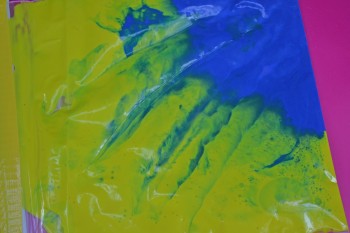 I suggest that you keep the bag on a plastic tray or baking sheet just in case you have a baggy malfunction.
Write on and Wipe off
You need: plastic picture frame (found at Walmart), dry erase markers, glass markers, or dry erase crayons.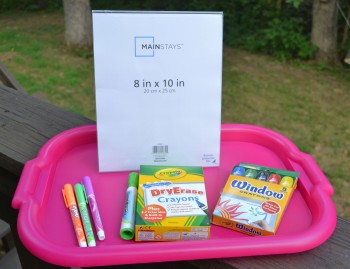 Lay the picture frame down with the lip at the top to make a miniature easel. Write, draw, have all kinds of colorful fun and wipe off.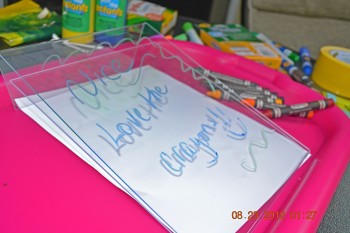 I liked the dry erase crayons the best. They were easy on and easy to wipe off.
Inspired by Teach Preschool!
Also…the picture frame even though it is plastic,  is not a tested toy; please monitor your child and how they use it.
An oldie and a stinky:
Shaving Cream Painting
You need: shaving cream, food coloring, chunky paint brush, tray, baking sheet or table top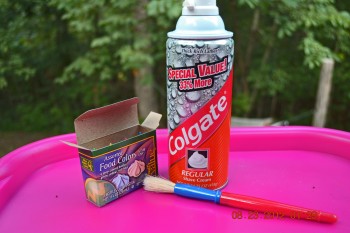 I strongly recommend fragrance free shaving cream. This was the stinkiest stuff I've ever used!!!
Squirt the shaving cream onto the tray, squirt on some food color, and go for it!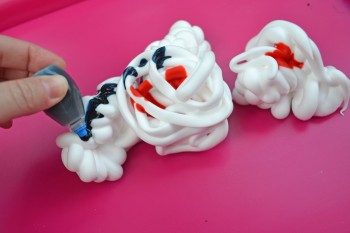 Of course your child can use their hands, but adding a paint brush ups the writing and fine motor experience.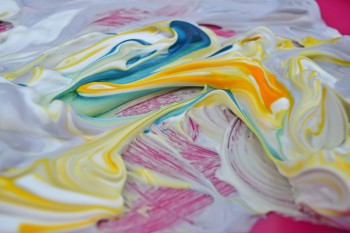 Circles, swirls, letters, dots, dabs, wonderful colors…add some more and go again!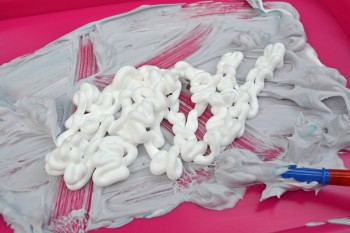 Have fun! There are many ways to experience writing using open-ended fun activities. Rather than guiding your child, let her explore and experience the materials on their own.
Write on!
These activities are linked at the following wonderful website. Check them out!