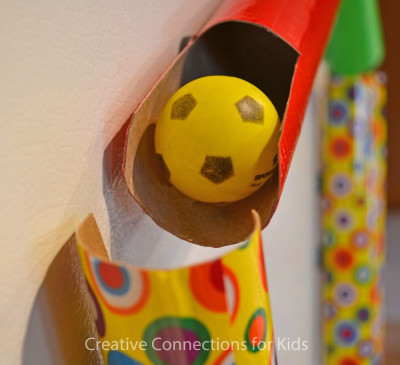 We have been playing with a marble run; and my older preschoolers and their parents have loved it.
For a marble run you need:
cardboard tubes  – paper towel tubes, gift wrap tubes, toilet paper tubes…
magnets
marbles or ping pong balls
hot glue or another adhesive
packing or duct tape (optional)
large baking sheet, refrigerator, or other metal surface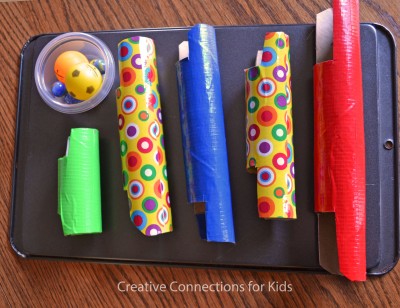 How to make a marble run:
Use the original size tubes and or cut them to various lengths
Cover in tape. This is optional. I used tape so that they could be wiped down.
Hot glue the magnets onto the tubes
Now just play!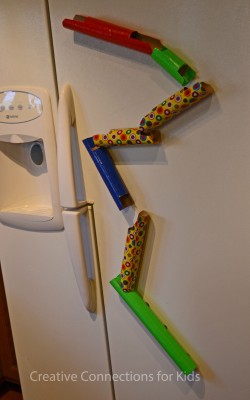 Ping pong balls work well and are a little easier to manage for small hands. Plus they are less likely to roll under the refrigerator.  🙂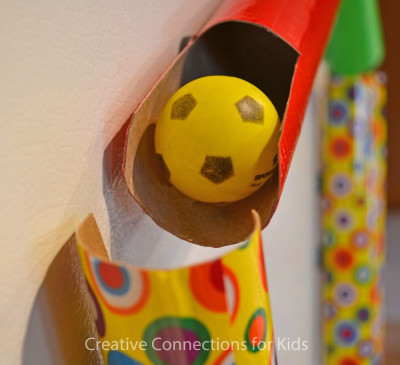 This was a mailing tube that we used at the bottom, it did a great job of catching the marbles at the end of the run. We tried to catch them in plastic containers too.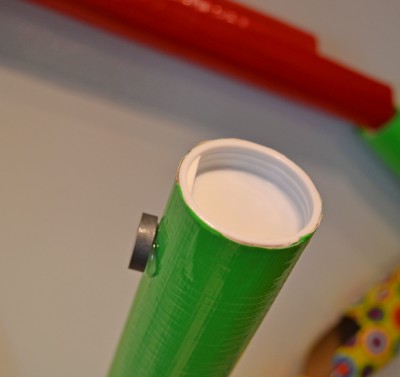 We also used a baking sheet in our laps. I would hold it and the children would adjust the tubes. It was a little more cramped and it took some patience but it worked to0: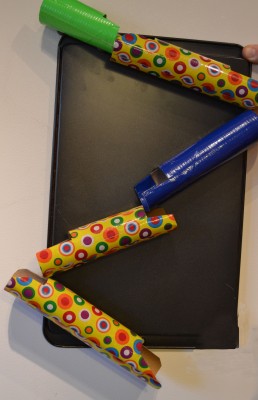 I hot glued the magnets onto the tubes. I tried magnetic tape but it wasn't strong enough to hold the tubes onto the surface. These round magnets worked very well.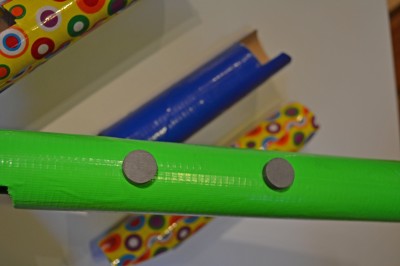 A marble run teaches problem solving, attention to task, physics, patience and teamwork.
Marble runs are everywhere!
Here are some wonderful sites that have different options and variations for marble runs and games that you can try:
A Mom With a Lesson Plan – Monster Marble Game
Growing a Jeweled Rose – Creative Magnets and a Marble Run
NurtureStore – How to Make a Junk Marble Run
Red Ted Art – How to Make Your Own Marble Run
Rock-a-bye-Butterfly – Fun with Marbles This post has a round up of marble activities as well!
Have fun building, creating, and running marbles together!
Connect with Creative Connections for Kids on Facebook!
This post has been linked to the following wonderful sites. Check them out!
No Time for Flashcards – Link and Learn
Classified: Mom – The Sunday Showcase
Let Kids Create – Monday Madness
I Can Teach My Child – Show and Share Saturday