Once again, welcome to the Small Hands Creating Hope project! I am very pleased to be a part of this exciting fundraiser for the American Cancer Society. This project is a team effort of an incredibly talented group of bloggers who produce and write about fun, creative, and educational activities for kids. Each of us has worked with our children or students to create a craft that could be made by or for someone facing cancer. The projects in this book are stunning, and several include tutorials so that you can recreate them with your own children or students.
All of this wonderful ideas have been compiled into a beautiful ebook. For a minimum donation of $15 to the American Cancer society, you can receive this wonderful resource.  An email with the download link, as well as a second link that allows you to purchase a hard copy of the book at production cost will be sent once we receive your donation. This button will take you directly to the American Cancer Society's donation page:
If you donate but do not receive this email for any reason, or if you have trouble with the download, email smallhandsproject (at) gmail (dot) com.
Creative Connections for Kids contributed a yellow and purple watercolor butterfly to the project: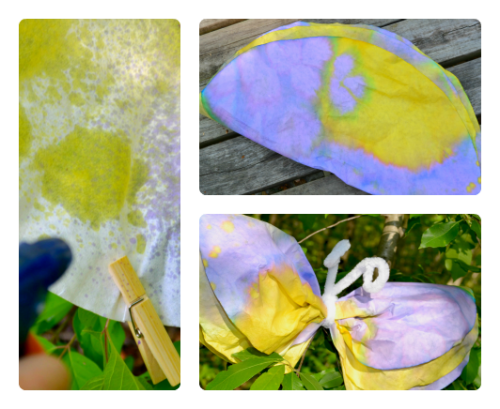 Just look at a few of the activities that are featured in the book!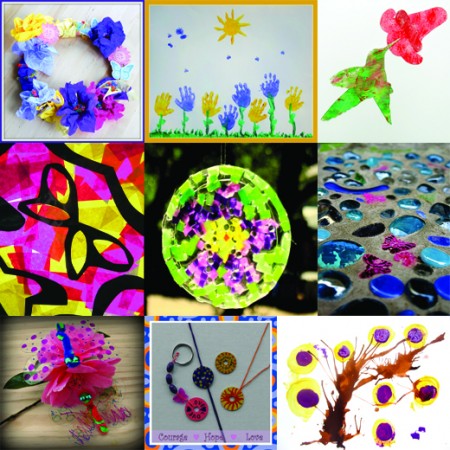 MaryAnne at Mama Smiles compiled this book as a way of celebrating thirty years of cancer survivorship! She was diagnosed when she was just two years old. We are so thankful for her life! We are hoping to raise $3000 by July 4th. We are running a blog hop from May 14th until July 4th to celebrate and raise funds so that, in the future, thirty years of cancer survivorship will be the norm, not the exception! Learn about each of the bloggers who participated in the book by visiting each blog on their assigned dates – a few bloggers will be running celebratory giveaways too.
14 May Mama Smiles
15 May Artsy Craftsy Mom and Rainbows Within Reach
16 May B. Inspired, Mama!
17 May Rainy Day Mum and Imagination Soup
18 May Inspiration Laboratories
19 May Experimenting Mom
20 May Outlaw Mom
21 May NurtureStore
22 May Living Montessori Now
23 May Mess for Less
24 May Having Fun at Home and CraftoArt
25 May Mama Mia's Heart2Heart
26 May Angelique Felix and Sense of Wonder
27 May Sun Hats & Wellie Boots
28 May Duck Duck Octopus
29 May Smiling like Sunshine
30 May Mommy with Selective Memory
31 May One Perfect Day
1 June The Educators' Spin On It
2 June Kids Stuff World
3 June Rainy Day Mum
4 June Teach Preschool
5 June Dirt and Boogers
6 June Creative Connections for Kids and The Golden Gleam
7 June Montessori Tidbits
8 June Mom to 2 Posh Lil Divas
9 June The Iowa Farmer's Wife
10 June Scribble Doodle and Draw
11 June Learn with Play
12 June Kitchen Counter Chronicles
13 June CRAYON Freckles
14 June Glittering Muffins
15 June Wise Owl Factory
16 June Crafty Maa
18 June Lessons Learnt Journal
20 June Growing a Jeweled Rose
21 June Growing Play
23 June JDaniel4′s Mom
We would love for you to post the Small Hands Creating Hope button in your sidebar for this project to help promote the project.
Thank you for your support!