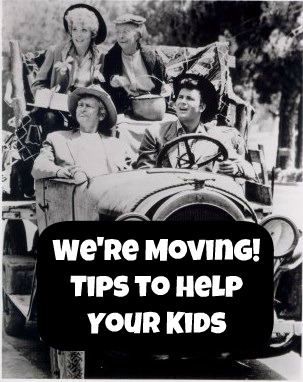 Moving is stressful and these moving tips for kids will hopefully help with a smooth transition.  Summer time is often moving time. School is out and we want to get our kids settled before it begins. We moved our family when our girls were 4 and 6 years old. We worked hard to make them feel prepared and at home in our new house. The following are few tips that we used when we moved. Plus, fellow bloggers friends have shared their moving tips too!
Moving Tips for Kids
Discuss the move with your kids from the beginning so that they have time to adjust to the event.
If it is impossible for them to make a physical visit to your new home and community, share pictures with them so they know what to expect. Looking it up on Google Maps or Google World.
Talk to your kids about their fears and what they are sad to leave behind. Also, discuss what they have to look forward to in their new community.
When settling into the new home make their inside or outside play area a priority so that they have a space to play while you unload and unpack. This was my husband's priority when we moved our girls.
Save a few of the best boxes for play when then the move is over. The best 'toy' ever is an empty box. It will entertain your child for hours while you work to settle in your new home.
Keep a sense of humor!
Moving Tips from Blogging Friends~
I am delighted to have fellow blogging friends link their posts, describe their experiences, and share what has helped their family through moving.
~Cathy from NurtureStore has this helpful tip:
"My elder daughter spent every birthday from age one to five in a different house and she handled all the moves really well. The key thing we focussed on was keeping every other aspect of her life as based in her familiar routine as we could. We had a special box for every move which had her teddy, bedding, favourite books, drinks cup and so on in it, so that all those things were to hand for her even if nothing else was unpacked yet."
~Isil from Smiling Like Sunshine describes how her daughter adjusted:
"We moved when my daughter was around 4 years old. We were cosleeping before and she had just started sleeping in her own room. When we moved, she wanted to cosleep again.We knew she didn't feel comfortable in the new house yet and didn't push her. She coslept with us feeling safe and secure and then decided to sleep in her own room about 6 months later."
~Stephanie from Boy Mama Teacher Mama describes their intercontinental move:
Last year we moved from the States to Australia. It was a huge transition for my sons (and for me). A few things I did to make the transition easier for my boys were– I hung pictures from an Australian calendar on our walls, we read tons of books from and about Australia, listened to Australian music and hung up a map of the continent and one of the world to "see" where we were going. All these things helped a lot! When we arrived, there were already many things that the boys were familiar with so home didn't see quite so far away.
~Mel at Play Activities:
"We took pictures of everyday things they liked to do. Views outside their window, front door, our journey to school, shops. Their rooms. We pull them out when we arrived to remember what we used to do and how we used to do things. It's also been great as they're just too young to remember lots of places but their little things are remembered."
~Heather from Little Moments describes their experience…
We talked about it a lot before it actually happened. Because our son was only 3 at the time and geography is not an easy thing for a preschooler to visualize or understand, this post "Are We There Yet?" and map describes how we helped give him an idea of where we were going.
~Andie from Crayon and Freckles recommended the book Half a World Away by Libby Gleeson to help prepare for a move.
~Amanda from Dirt and Boogers:
"My 2 year old has moved across the country twice. Our most recent move was last month. I found that having him help with the packing really helped with him not being too much under foot. We also packed his things last and unpacked them first. I believe having his toys really helped make the new house feel more like "home" to him. It was also really helpful to stay as consistant in our bedtime and mealtime rituals. That way there was some familiarity in routine even though everything else is changing."
More posts for your reading and planning pleasure:
~Laura at Play Dr. Mom – We're moving!
~Marnie from Carrots are Orange – Surviving a Move
~Katie at Mom with a Selective Memory – Don't be Afraid of Change
I hope this information helps your family have a smooth transition to a new home and community!
Many thanks to all of the wonderful bloggers who contributed to this post!