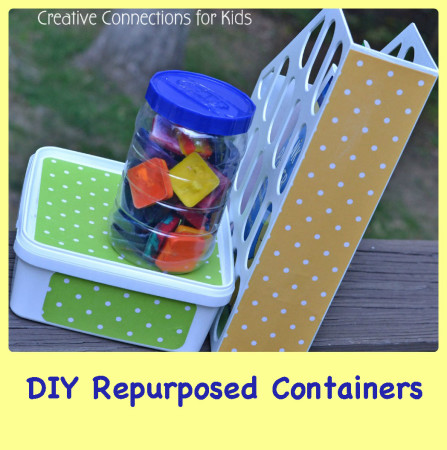 Do you find yourself looking for ways to organize and store odds and ends without spending extra cash on containers? Repurposed containers work beautifully. I don't feel guilty for throwing them out, using them saves money, and they can be spiffed up with a bit of paper and mod podge.
These are plastic boxes that were filled with frozen food. There was no way to remove the labels so I cut scrapbooking paper to cover the label then used mod podge to 'glue' it to the box. (Please ignore the words: "cream puffs". Thank you.) Here they are: after and before.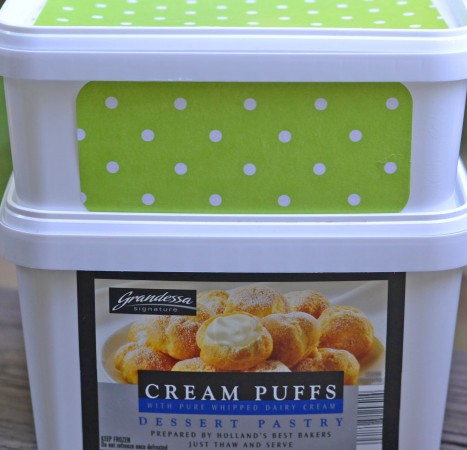 This box looks cute on the shelf and holds markers, crayons, cars…just about anything. Labels can easily be added too.
I had a few really old, dingy plastic magazine boxes and spruced up both ends with modge podge and paper. They make great little storage units to organize my paperback children's books.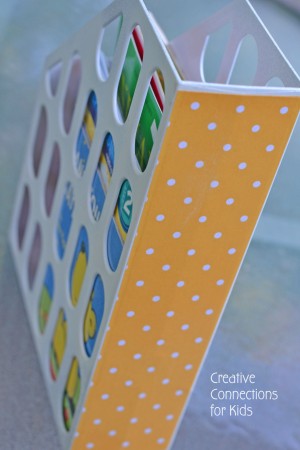 There seems to be a continual change in art supplies at work as we use them up and move on to new projects. I love these plastic kraft jars to store whatever is needed in the moment…sequins, glitter, crayons, and my new square crayons too.
Have you ever purchased an item simply because you could see a use for the container? I definitely have.
This little media container is the perfect size for some of my board books and other odds and ends too.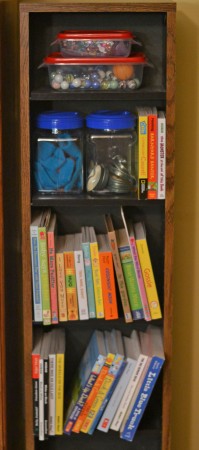 Organizing materials and stuff creates time for play and fun together. It seems like I'm always rearranging to make space and save time.
Have fun playing, reading, and creating together.
Connect to CCK on Facebook!
We are tickled to be linked to these fun and crafty sites: