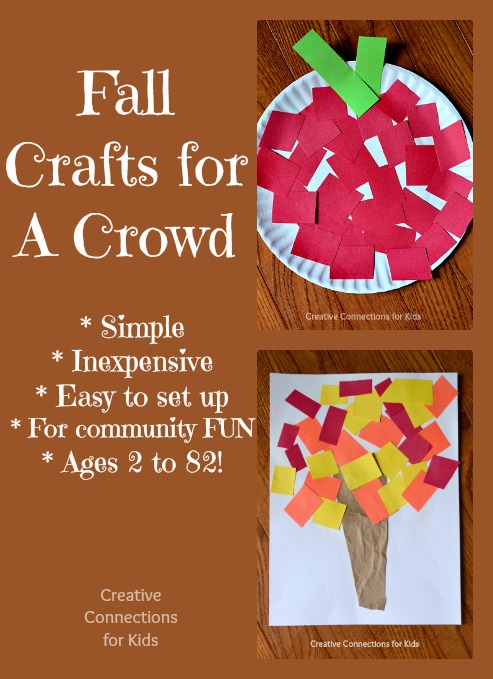 We just had a community program at our local library called "Fall into Reading". My part was to provide the craft to connect to the stories. It is difficult to find an activity appropriate for multiple ages that is cheap and easy to produce when you have no idea how many kids are going to show up.
I found this apple and autumn tree on Pinterest and it looked like a good fit for our event.  They aren't very unique and can be found in many variations online.  Our kids were from 2 to 6 years, and they seemed to have a great time. It was fun to see the twist and turns they thought of to make their tree and apple their own unique piece.
Supplies needed for Fall Crafts:
paper in autumn and apple colors, plus construction paper to glue the tree to
paper cutter (for mass production it is essential)
glue sticks
paper plates for apples
brown packing paper for trees
The Apple: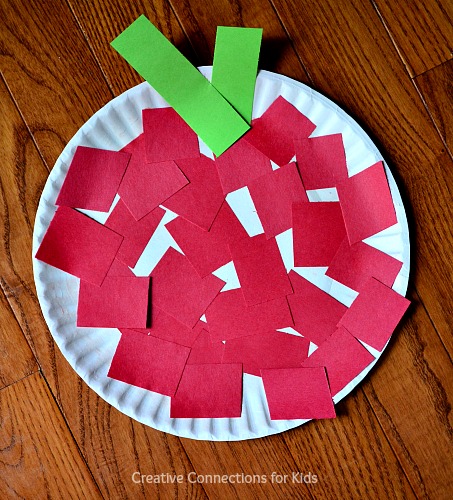 To make The Apple just cut construction paper into strips, then cut the strips into squares and rectangles. Glue the paper to a paper plate. Add a stem at the top.
The Tree:
We repurposed packing paper to make the tree trunks. Flatten the paper out then cut it with scissors into manageble pieces. This is one huge piece of paper and it is perfect for our project: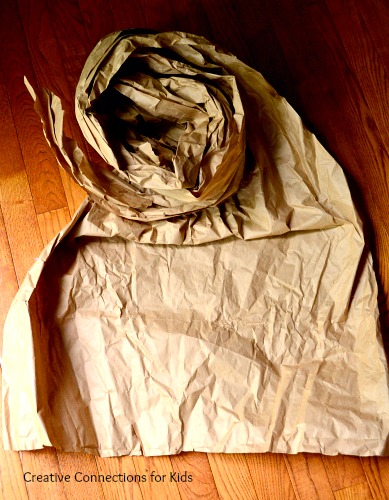 Use a paper cutter to cut the brown paper into strips for tree trunks. The crinkles make great bark!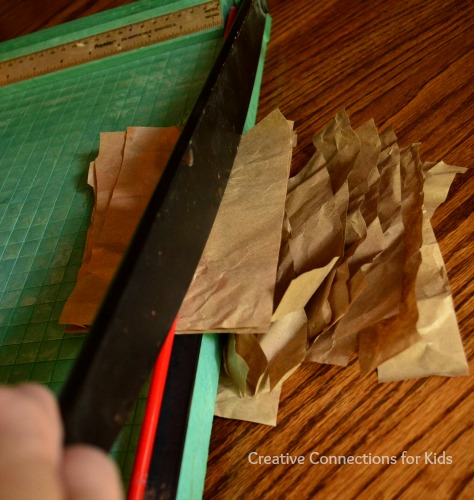 Again, I cut autumn colored construction paper into strips, then cut the strips into squares and rectanges to make the leaves.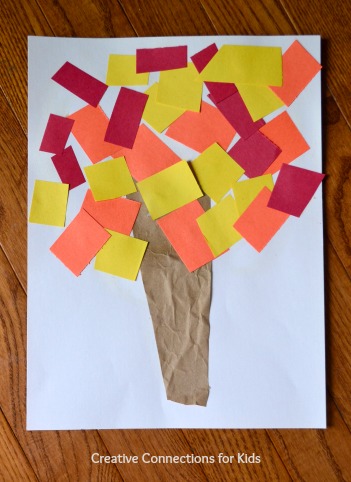 To make the tree just glue them all onto the paper using glue sticks.
Here are my paper supplies all ready to go!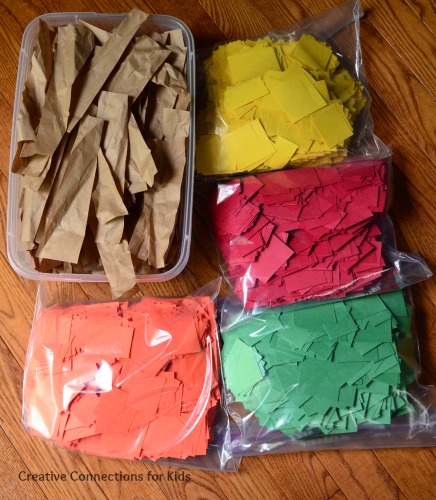 We had several tables and placed supplies for the craft in trays on the tables.  The children had full access. Basic instructions were given and the kids were turned loose to make their creation. Parents provided any guidance that was needed, but it was such an open ended craft that the kids were very independent. They were engaged and interested in their work of art!
Snacks that were served:
Apple slices, cheese, crackers, grapes, and apple juice
Books that were read:
Another idea:
If you need a pumpkin recipe for a large crowd, these jack-o-lantern cups are delicious! We made them for over 100 people.
Fun was had by all!  I hope you and your crowd have a fantastic time too!!
Follow Creative Connections for Kids on: