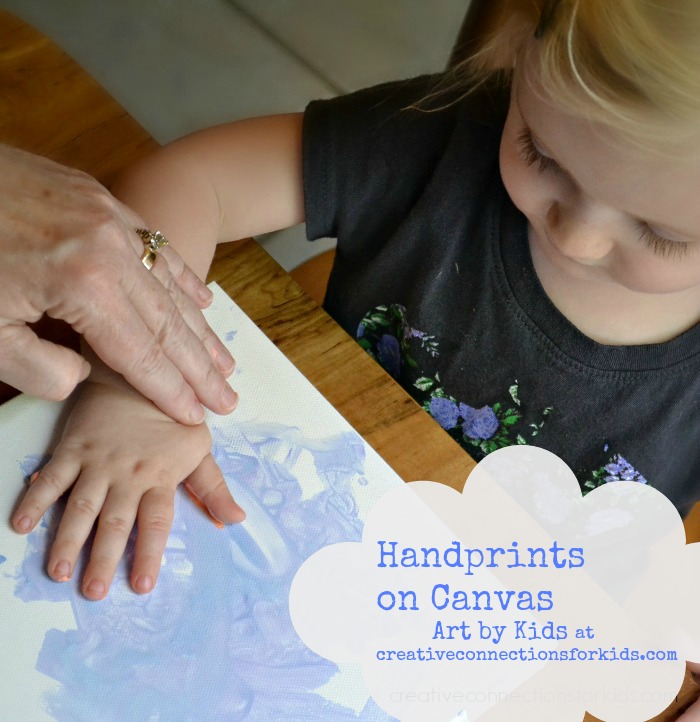 Creating  handprints on a canvas is so easy dads can easily make this happen with their little ones. This gift idea is perfect for Mother's Day, Christmas, birthdays, and just anytime you want to share some love. It is fully child created which makes it that much more special.
Supplies for handprints:
8×8 or 8×10 inch canvas – we used 8×8
Paint of your choice – we used finger paint from Hobby Lobby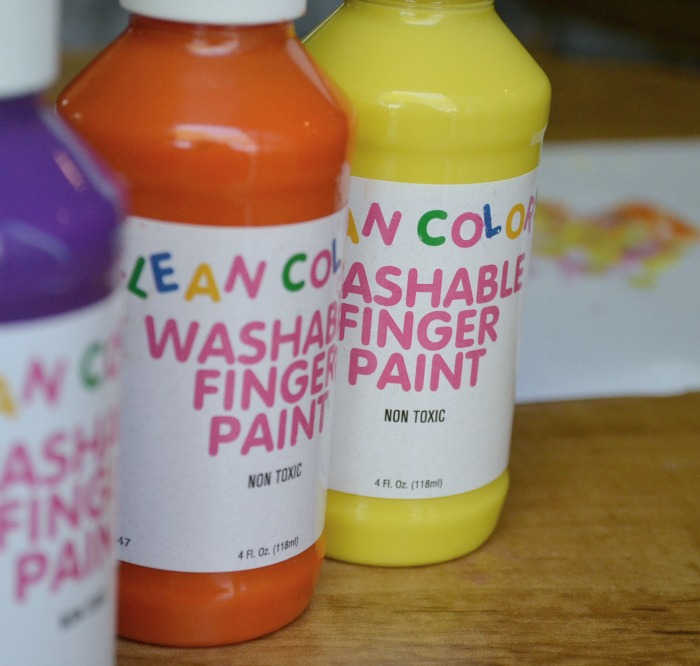 This paint came in a six pack of 4 ounce bottles. I also bought white to mix in to soften the colors. We wanted a soft blue background so the combination was blue, white, with just a little squirt of purple. Easy!
The first step is to make the background:
Apply the paint and spread it all around the canvas. Your child can use a brush or fingers. Ruby applied the paint with a brush and her fingers. It was her first paint experience and she loved it.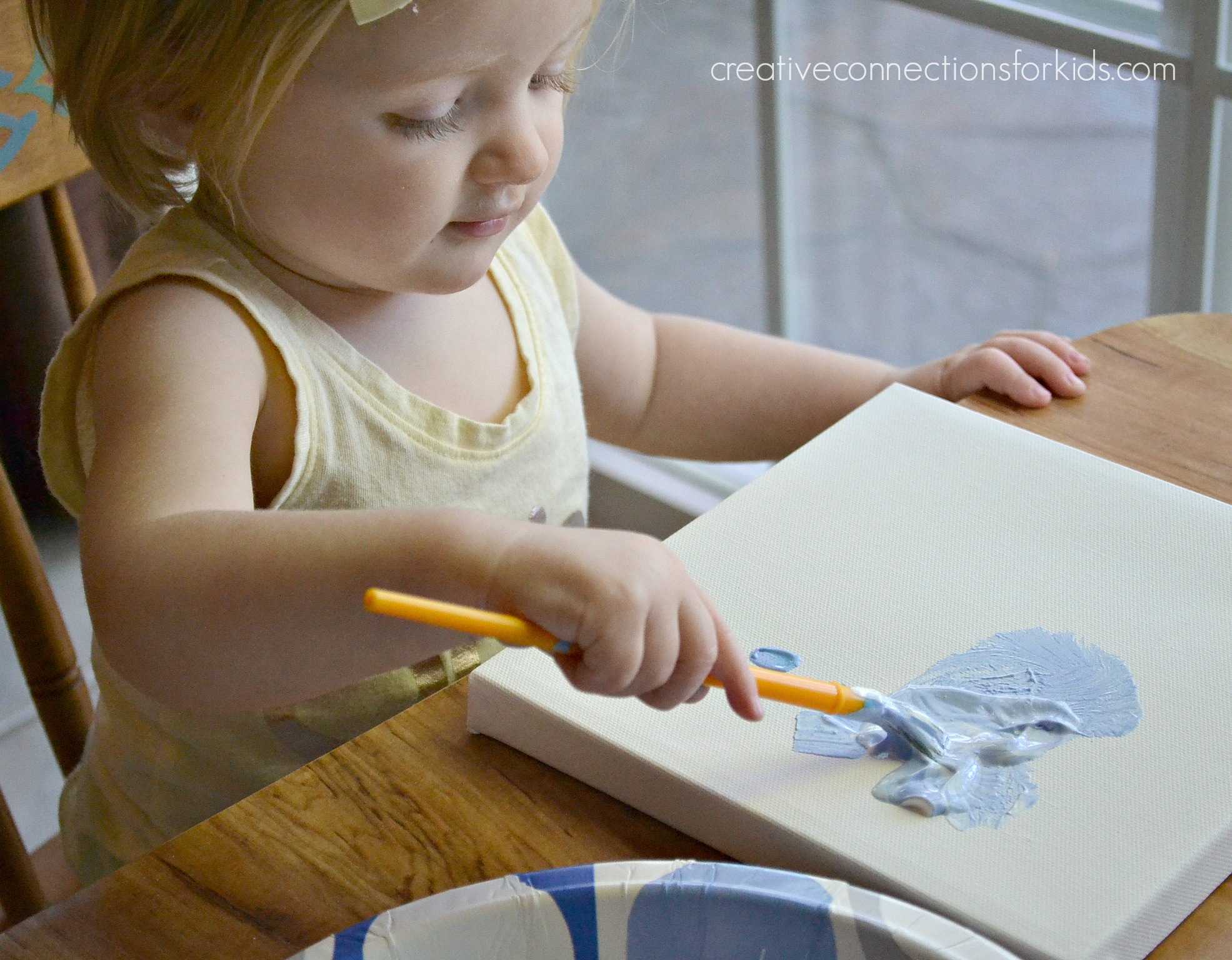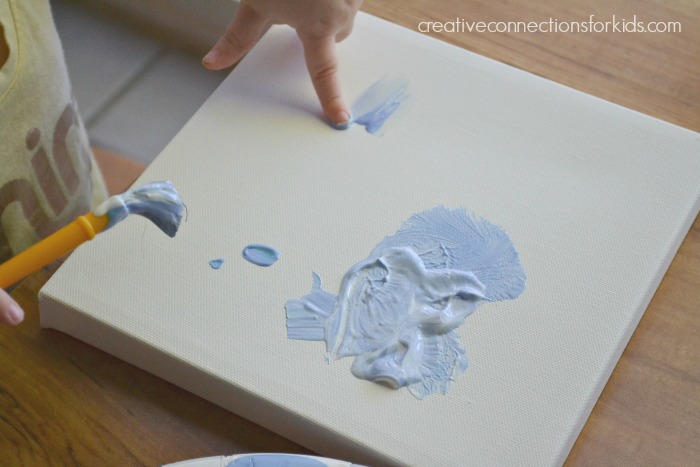 Once the paint is spread around on the canvas. Let it dry. This paint was thick, so we decided to stop and let it dry overnight.
The next step is to apply the handprints:
This step can be tricky with a wiggly toddler who has her own ideas! We really wanted to have a clear handprint, so we  practiced making handprints on paper.   I highly suggest that you talk to your child  about the steps. We practiced on paper to teach the sequence, and coached her along by simply saying, "Pat, pat in the paint. Smash on the paper! Yay!!!!!" We all cheered. Very fun!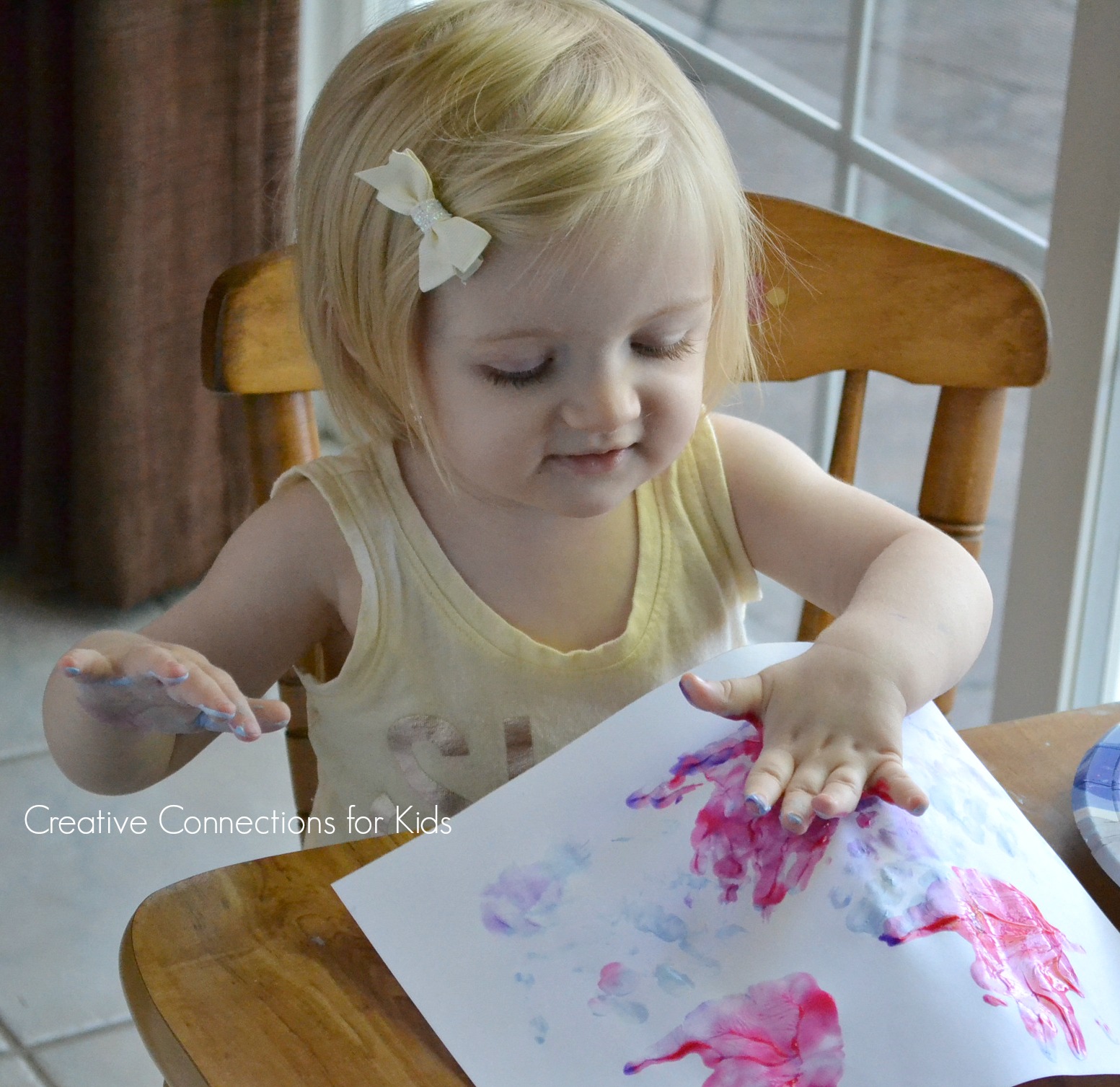 From practicing we learned that we should paint her hand  and fingers with a brush to be sure they were fully covered.  This is the next day with the dry canvas: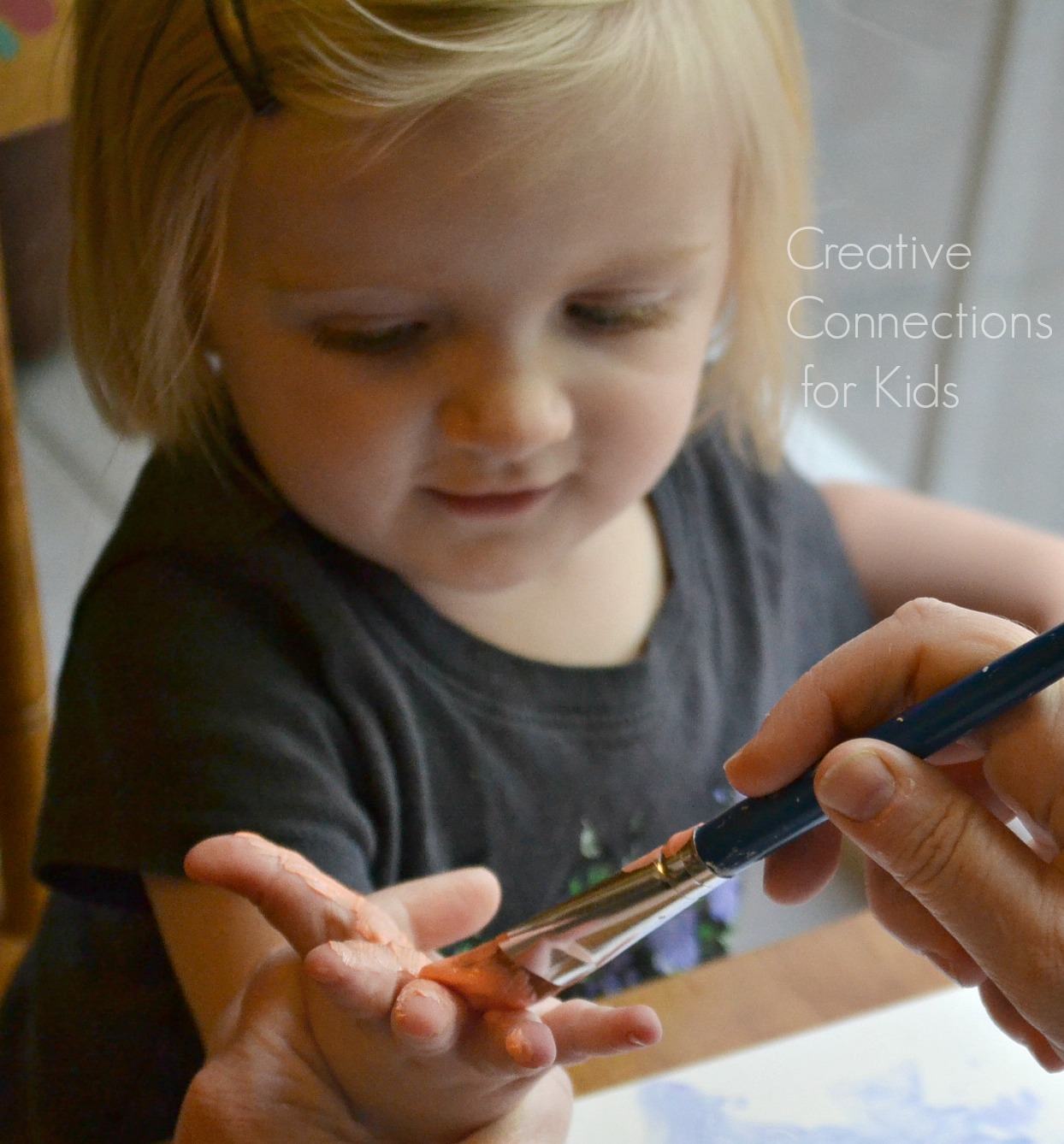 Going in for the print!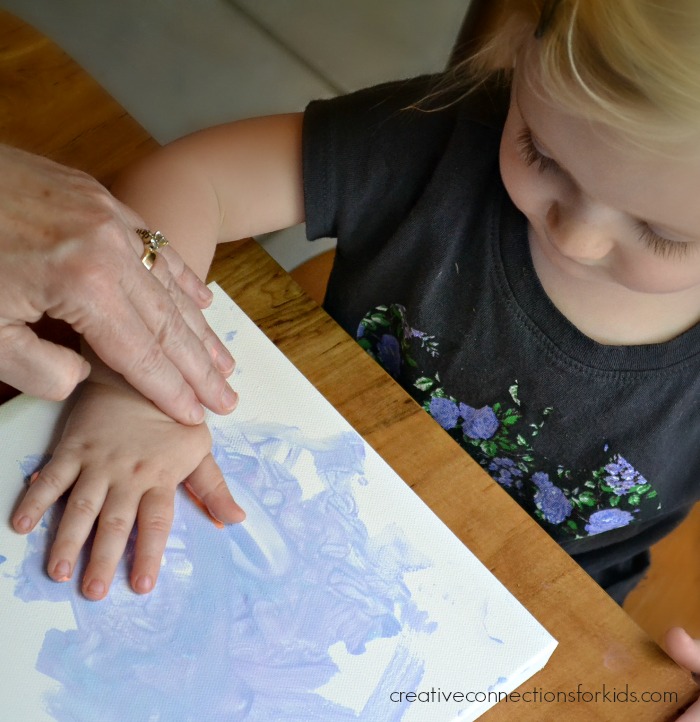 A close up of Ruby's handprints on a background she completely made herself. Love.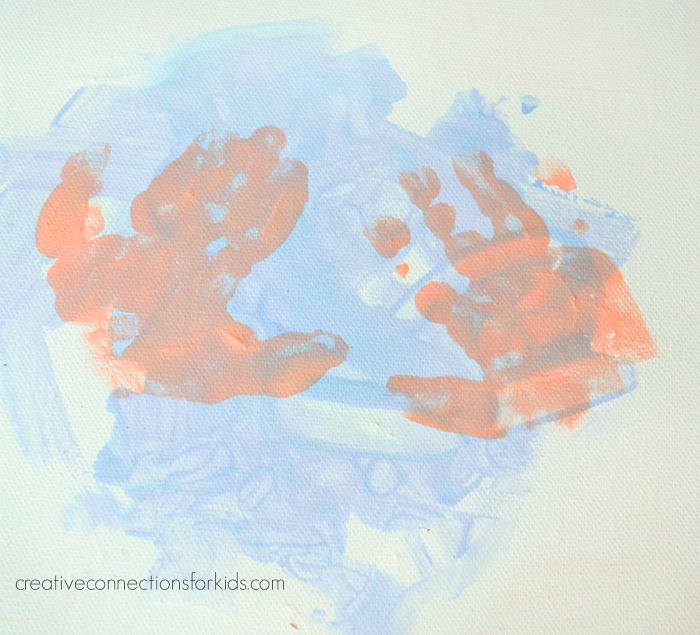 I love this project because of the child directed artwork, with just minimal assistance on the handprints. Simplicity at its best. Plus it is a gift any parent or grandparent would love.
Another gift idea is here: