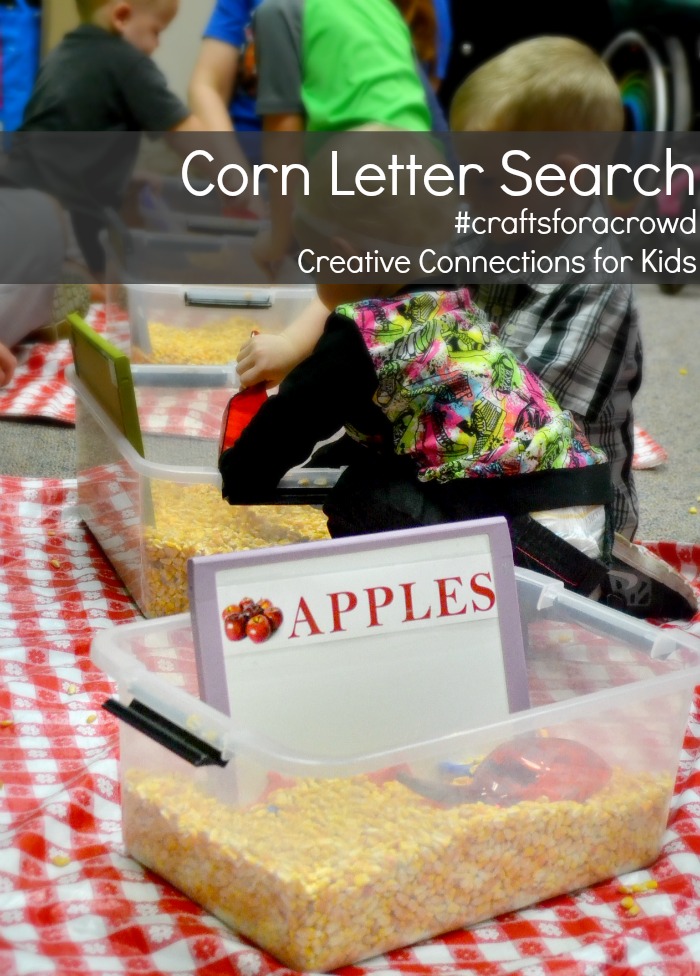 If you need simple fall activities for a crowd of children, here are two for you! These two activities are literacy related and were my contribution to our Fall Frolic at the local library for children 6 years and under. They are simple and inexpensive to create for a crowd or at home.
Corn Letter Search
The purpose of this activity is to provide the opportunity for children to play with letters. They find the letters in the corn, then match the letters to the words on the magnetic board. Younger children can play  in the corn and find the letters. Parents support the children by talking about the letters they found, naming them if need, helping them match the letters, and saying the words.
Supplies needed
Corn – shown is deer corn purchased at our local farm supply
Boxes
Scoops
Magnetic letters – purchased at Walmart
Magnetic boards
Fall words printed and laminated with clear packing tape. Here is a printable of the words we used.
Vinyl table cloths
Tape
Place the corn and magnetic letters in the box. Tape the words to the top of the magnetic board. Have the children search for the letters and match them to the letters in the word.
The Set Up
Large red and white checkered vinyl table cloths were folded in half and placed under the boxes of corn to define a place for the children to play. Stray pieces of corn were easily swept up when time to clean up. This activity we perfect for a wide range of children. Toddlers loved playing in the corn and preschoolers were successful at finding and matching the letters.
Fall Song Frame
The purpose of this activity is for the child to create art and to encourage parents to sing to their child at home. Songs support literacy development by providing the opportunity to play with sounds, words, and vocabulary. Having the child decorate the frame creates a work of art that can be put on the fridge to remind the family to sing the song together.
Supplies needed
A favorite fall song printed with a text box to create a frame
Autumn colored tissue paper cut into small squares and pieces to represent leaves
Gluesticks
Create and print your song with a frame. Here are 10 fall songs from Teaching Mama.  Glue the tissue paper to the frame of the song.  Sing the song. Simple!
The set up
A tray with the paper and gluesticks was placed in the center of a small table. The song sheets were available for the children to come up and create.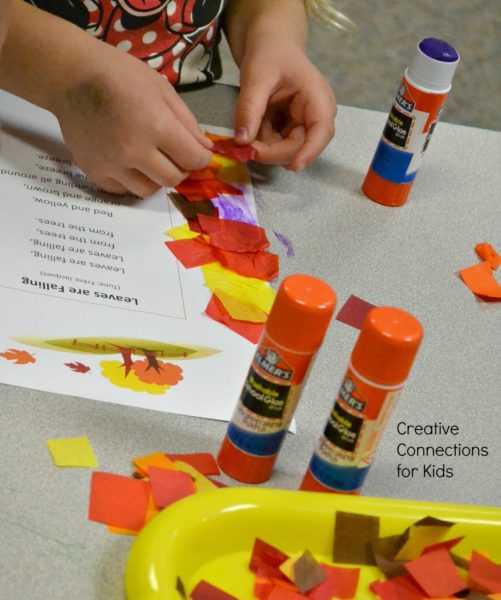 More ideas?
If you need more ideas for your fall event check our first post "Fall Crafts for a Crowd".