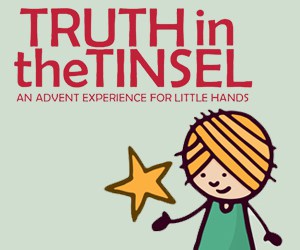 Truth in the Tinsel by Amanda White is a wonderful ebook that teaches the Christmas story of Jesus birth through 24 advent activities. If  the craziness of the holiday seems to sweep you away and you sit there on December 25th and say, "Wait. Did we even talk about Jesus the last 24 days?".  This book is for you!
This book will lead you and your children through the story of Jesus birth. You'll take a few minutes each day to read the Christmas Story directly from the Bible, make a fun ornament or craft, and then talk about the story together. These activities are perfect for children who are older preschoolers and up.
Why do I love Truth in the Tinsel?
1. The daily lessons teach your child Jesus birth story.
2. The crafts and activities provide hands on fun that extend the learning.
3. The organization of the book is amazing.  Amanda provides a complete supply list and a specific daily supply list. If you prefer not to do a lesson every day you can easily select the lessons that you want to do, and can prepare for them in a snap!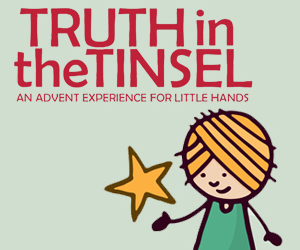 4. Amanda has also provided hyperlinked Bible scriptures; colorful, easy to follow photographs and descriptions; and handy printable templates.
5.  The price is affordable!  For $7.99 you receive a 46 page resource with 24 activities, plus extra activities to boot!
Click here to purchase Truth in Tinsel.
Creative Connections for Kids is an affiliate of Truth in the Tinsel. The information is an honest review of this e-book. I highly recommend it.