This activity is a favorite with my kiddos. It's the Milk Jug Toss.  A wiffle ball or yarn pom pom is attached to a milk jug with yarn or string. Then the pom pom or ball is tossed up and caught in the jug. Simple fun!
You need:
gallon milk jug
yarn
yarn pom pom
or you can use a wiffle ball
scissors
colorful duct tape – optional
How to:
Cut the bottom off of the jug
You can cover it with tape if you like. This is optional. It gives it a bit of support and is pretty. 🙂
Make a yarn pom pom
Run yarn or string through the top to the bottom and tie, leaving a length of yarn to create "the toss".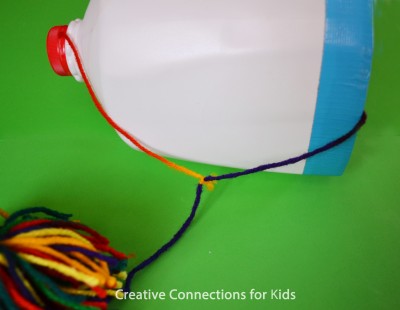 The length of yarn you use depends upon how tall your child is. When I made this the first time,  I used about a 3 foot piece of yarn, which was fine for me, but much too long for my four year olds.
You swing the pom pom up and catch it in the milk jug. I'm home alone so I don't have anyone to demonstrate, but it looks something like this: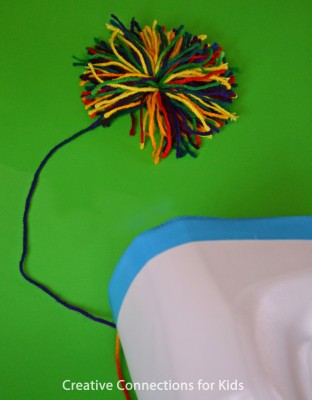 Use your imagination at bit and you will get the jest of it. 🙂
Here is the wiffle ball version: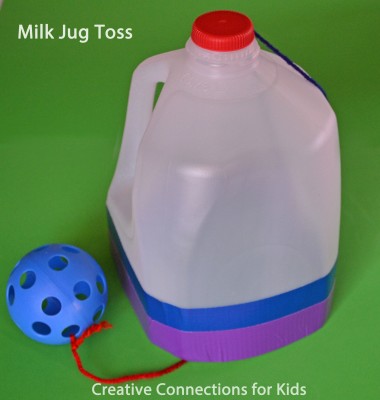 This is a variation of an activity found at Lakeshore Leaning where the ball is not tethered, but just tossed into the jug. It's a very fun option as well.
If you need directions for making a yarn pom pom you can check out this YouTube tutorial.
My families have loved this activity. It gets the kids moving. They love playing ball in the house in the winter. The parents love it because the ball is tethered and not flying through a room. 🙂
Have fun playing together!
For more great learning ideas follow Creative Connections for Kids on Facebook!