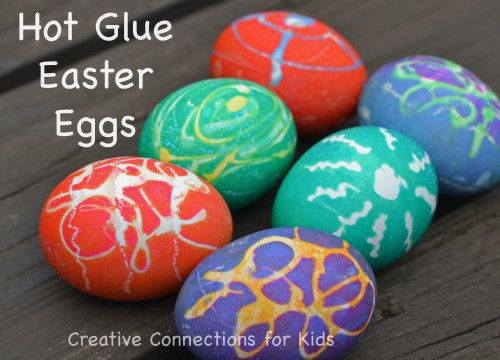 We are going to create unique easter eggs by using hot glue and standard easter egg dye.
Hot glue is a tool that is not typically considered appropriate for older preschoolers and elementary students.  I was inspired by Teacher Tom and Deborah at Teach Preschool. They have both used glue guns in their preschool classrooms along with supervision. If you decide to try this it is imperative to discuss how to use glue guns safely and to provide supervision.  This activity isn't for everyone. If you're not comfortable with hot glue, it's okay…please click away.
This is a fun and truly unique way to decorate eggs with your child!  Color and designs are created by layering hot glue and dye. It's awesome!
First:
Discuss glue gun safety with your child and provide supervision. Supervision is a must!!
You need:
cool temp glue gun and glue
white boiled eggs
egg dye – we used the cheapest dye on the shelf
water and vinegar
egg carton
Here we go!
Boil the eggs. Our eggs were boiled the day before and put in the fridge. They were cooled to room temperature, but were not cold. If they are cold they will sweat and the glue will not stick. We had a bit of problem with our glue not sticking to the eggs.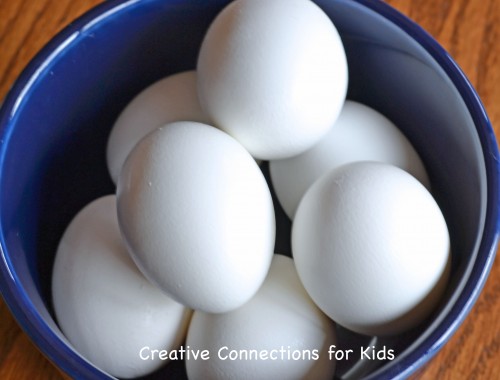 Squirt the hot glue onto the egg. We used an egg carton to hold them: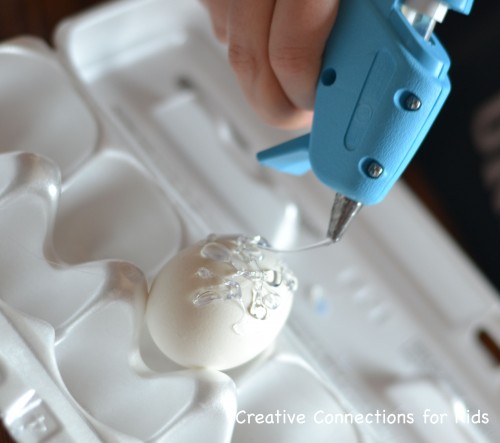 Wide fat glue lines work well. Let the glue dry thoroughly: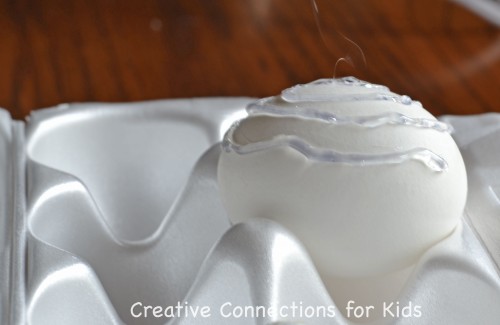 Use a variety of squiggles and wiggles! These eggs are creative and abstract. Have fun with them!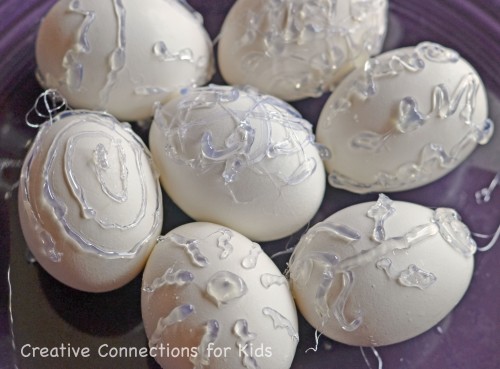 Drop them gently into the dye. We let them set about 10 minutes so that there would be a significant contrast in color. There is an egg right here…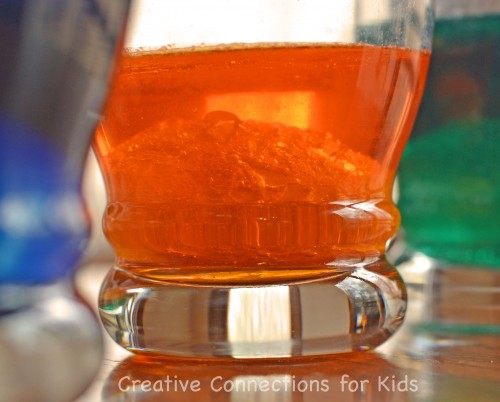 We applied glue, dyed the egg, peeled off the glue, added glue and dyed it again to layer and mix the colors. The egg carton makes a great drying rack. Let them dry thoroughly.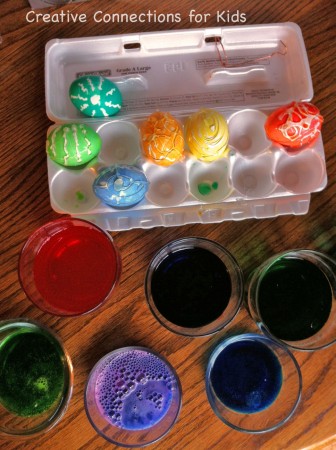 Once you have completed your layers and the eggs are dry peel of the final layer of glue. The results were rustic and stunning!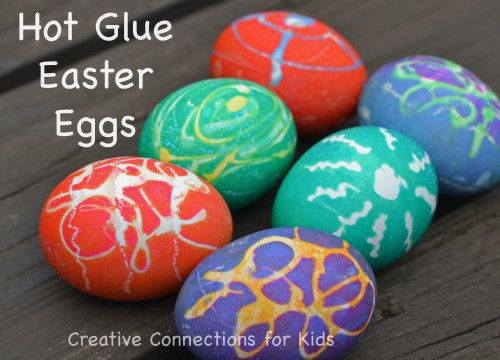 Your children will learn science, motor skills, being gentle with the eggs, color theory, cause and effect, patience, responsibility, teamwork, communication, and consequences. Most importantly you will make happy memories and have great conversations with your child.
Even if only five people enjoy this activity, it will be one of my favorite posts!  I love each step and the results, but what made it especially wonderful was having my lovely daughter Bethany (who is 24) join me. We had a delightful afternoon of fun and conversation discussing strategies, color theory, and photography.
Have fun this Easter season spending time together!
**Notes on the project**
We have had reports and experienced the glue pulling the shell off.  I talked to an agriculture instructor and  learned that this is likely do to the amount of calcium in the egg. If a hen that laid the egg was calcium deficient, the shell will be weaker.  If you have any feedback or input, I would love to hear it.  ~Kristi
If you liked this post you may like these egg decorating ideas too:
Mod Podge Easter Eggs – fun for ALL ages…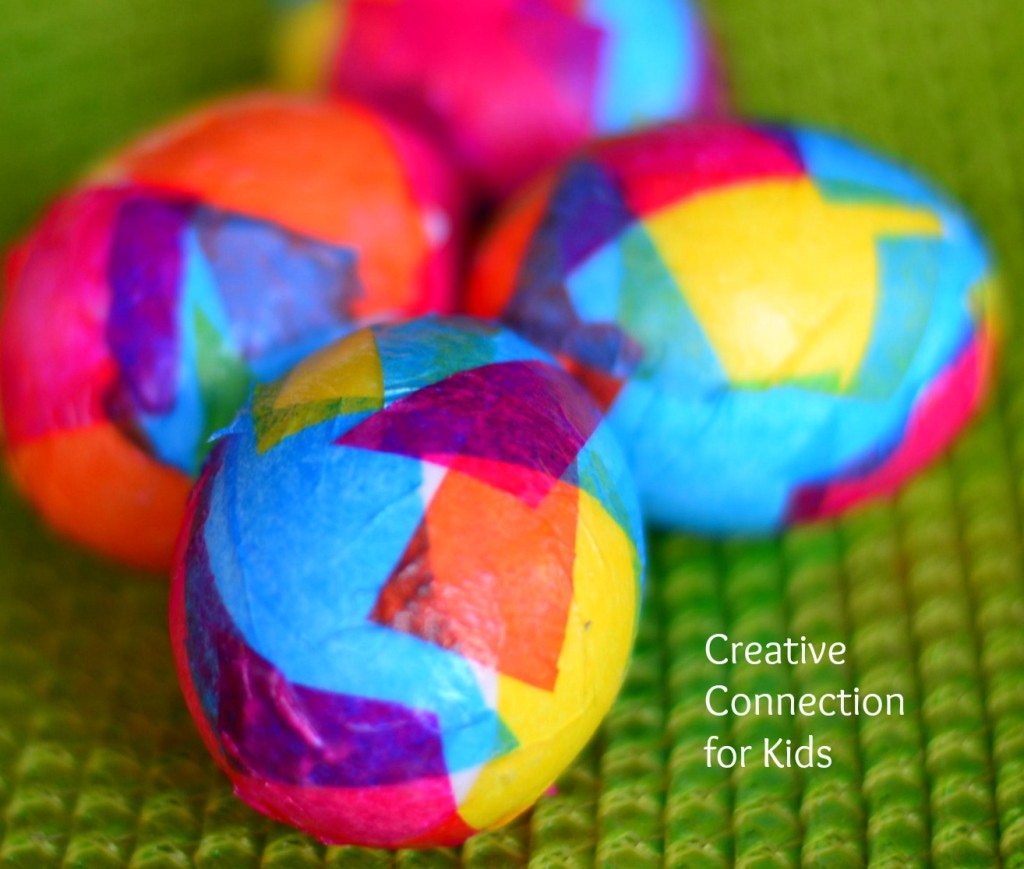 Decorating Easter Eggs ~Resist with Stickers. This is similar to the hot glue process, but instead of  hot glue you are using stickers to block the color from seeping into the egg. It's a bit more friendly for younger kids too!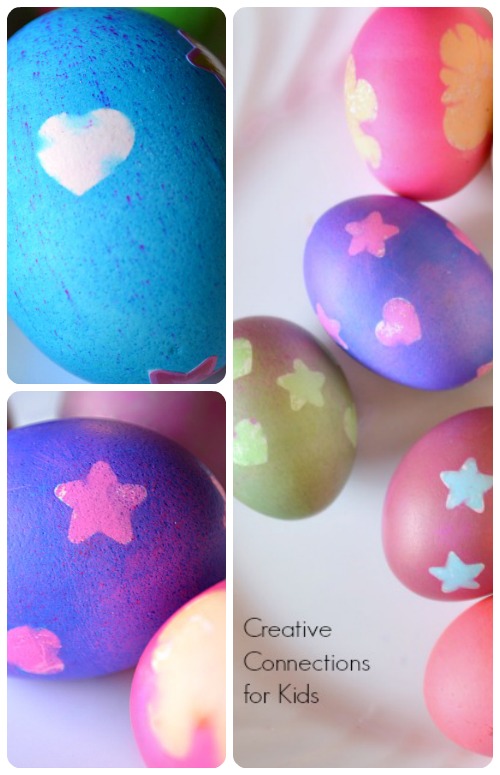 Follow CCK on…



We are pleased to be linked to these great sites!