Finger painting is loved by kids and is nearly a perfect activity. Why? It combines creativity, fine motor, sensory integration, color theory, cause and affect, and imagination.  It is playful and fun! Even young toddlers can participate if given the right kind of paint.
I'll be sharing finger-painting with my kids at work and will give their parents a sample of paint. Since I need a big batch of paint and a super easy recipe, I spent an afternoon playing in the kitchen and created this one from edible ingredients. It is toddler friendly too!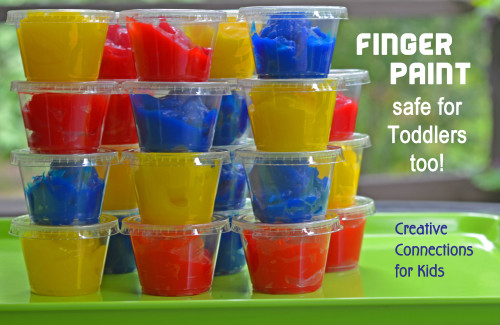 A link to a printable recipe will be at the end of the post.
First mix together 2 packets of knox gelatin into 1 cup of water and set aside.
Then mix together in a sauce pan: 1 cup of cornstarch, 6 cups of water, 2 tbs of flour.  Cook it at medium heat and stir contantly until it boils: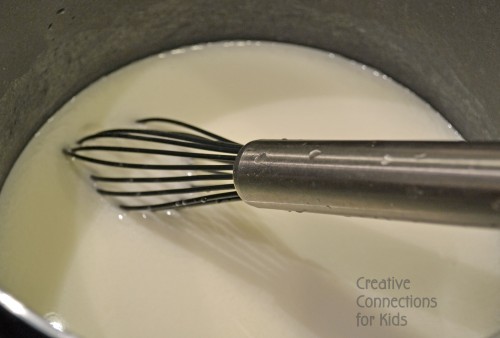 Once it boils, cook it until it is somewhat clear and has thickened, then remove from the heat, add the gelatin mixture, and then stir until smooth.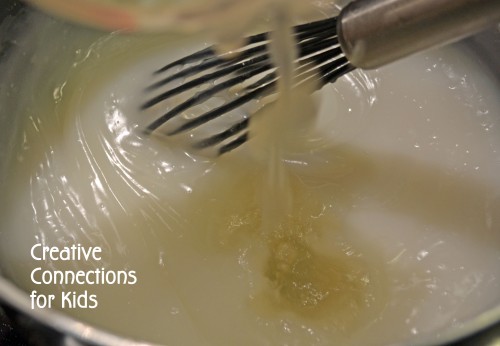 Divide the base mixture into bowls  and add your choice of food coloring. I used Wilson gel food coloring. It was mentioned in the comments that to make it washable, you can add a bit of dawn dish washing soap; however, please remember that the paint will no longer be edible if soap is added.
After you add the gelatin and food color it may seem a little runny. Mine seemed very runny.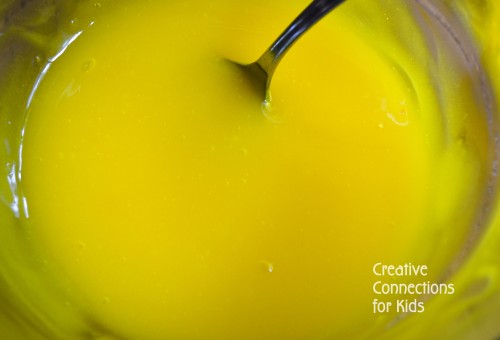 But after it sits and cools it will thicken. I put it in the refrigerator to speed up the process: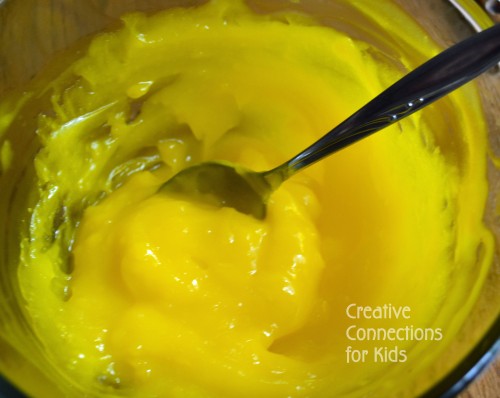 Since this paint needs to be portable for sharing I put it in plastic 2 oz condiment cups. (also known as jello shot cups)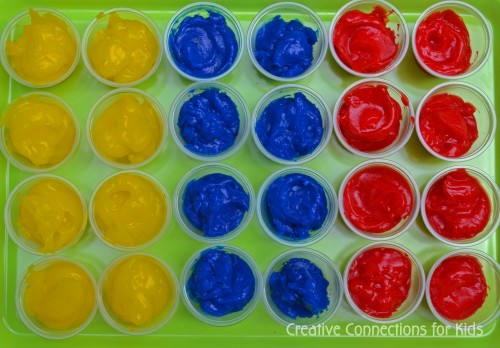 There are no preservatives in the paint. Please store it in the refrigerator.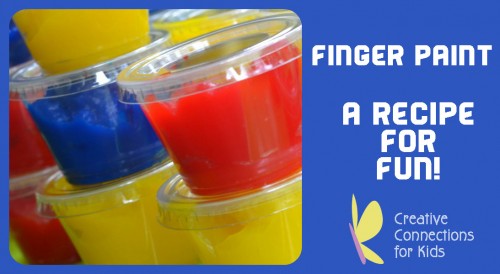 Whether or not this paint is washable depends on what you use for coloring. I had blue hands for about 24 hours.  Don't be afraid of getting messy: wear old clothes, put a drop cloth on the floor, paint outside. Put out the paint and the paper and let them play! But also enjoy your time with them too.
Have fun painting together!
Supplies from Amazon:
Thank you for reading Creative Connections for Kids!

Connect to us on Facebook too!
We are pleased to be linked to these great sites: