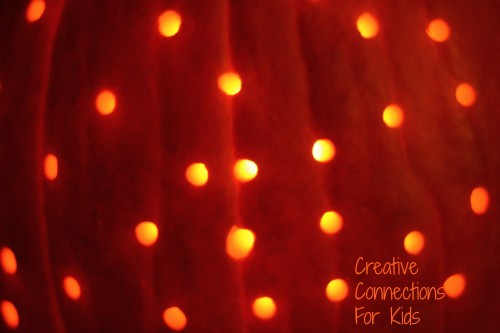 There is much inspiration on Pinterest for carving and decorating pumpkins this season. From yarn, to paint, hammer and nails, and drills you can find just about any tool or material. I chose to use a drill for this activity.
Supervision: You might not be comfortable having your child handle a drill and that is fine. You know your child's capabilities.
If you choose to do this activity supervision, teaching, and guidance is an absolute must!!!
To drill a pumpkin light here is what you need:
a pumpkin (ours came from Ritters Fruits and Vegetables)
a drill and bit
knife for carving the top
candle or battery powered light of your choice to put inside the pumpkin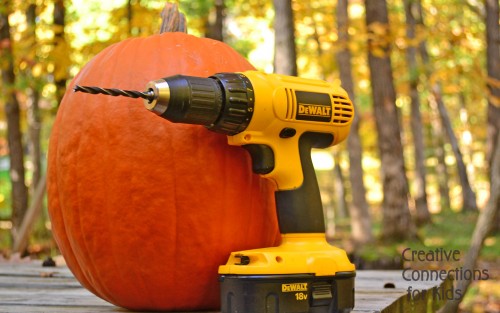 First, cut out the top and back of the pumpkin.  I found this cut on Pinterest. It provides easy access to clean and light the pumpkin.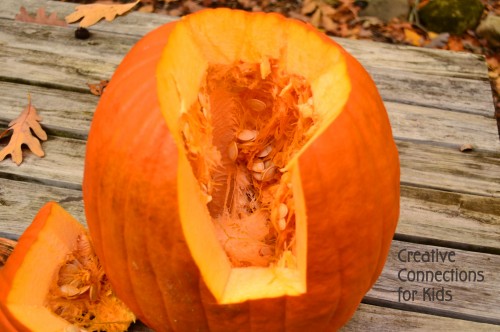 Thoroughly clean out the seeds and 'guts' of the pumpkin. This is so sensory! Get in there and get messy! (You should probably check out our post called Pumpkin Guts!)
Instruct your child on how to use the drill safely, then supervise their work at all times.
Carefully drill away!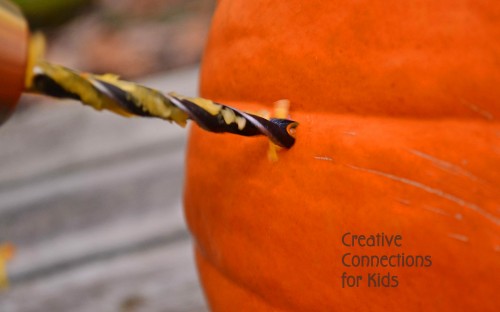 We chose a random pattern.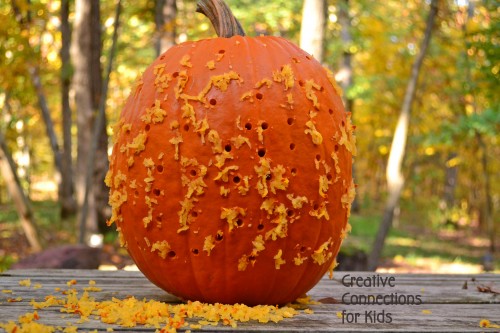 This was so fun. When you were kid do remember opening a gift that your parents loved to play with?  You will be the one who wants to use the drill!
Once drilling is complete, clean up your pumpkin.  Wipe it down inside and out. I used a straw to poke through holes that were slightly clogged. Another tip I learned from Pinterest is to smear the inside with vaseline to help prevent molding. The drill was easy to clean by rinsing with water and drying.
Add the lighting of your choice. This pumpkin has a medium sized pillar candle on the inside.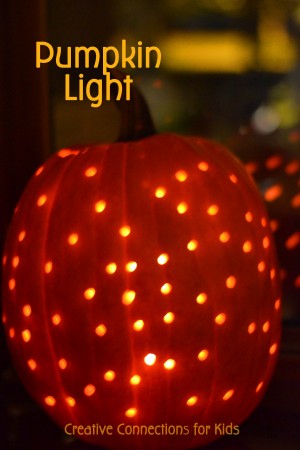 Even though I am sharing pumpkin tips from Pinterest, I did not pin the tips. Don't ask me why, I just really didn't expect to carve a pumpkin this year. If you have drilled a pumpkin or have written about pumpkin tips, please leave your links in the comments and I'll add the link to the post.
Have fun drilling pumpkins together!
Follow Creative Connections for Kids on:

Facebook *** Pinterest *** Google+
Pumpkin Links:
Craftynest shows how to make more specific patterns on the pumpkin.
We are pleased to be linked to these great and creative sites!
Be Inspired Mama – Perfectly Pumpkin Contest