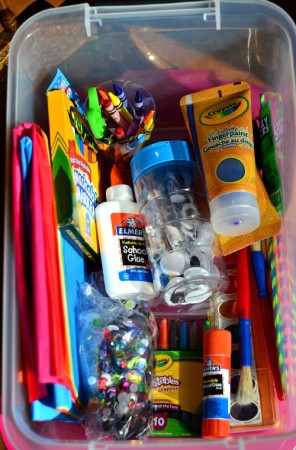 Having a box of art supplies on hand and ready for play enhances creativity in children…and adults! Open-ended art activities support fine motor development, cognitive skills and, of course, creativity.  It builds self-confidence and fosters a child's sense of discovery.
These are some of our inexpensive favorites that can be found at Walmart or Dollar General:
Crayons
Tissue paper
Construction paper
Markers
Glue sticks (Elmer's purple gluesticks are my favorite)  or liquid glue
Water color paint
Construction paper
Scissors
Pipe cleaners
Glitter,  sequins,  feathers, wiggle eyes
Foam brushes and paint brushes
If your kids aren't used to having open ended art supplies or if they are very young, it may be idealistic to have these supplies fully accessible at all times. Plus, some of us (like me) don't tolerate a full-on mess very well.
Having an art box gives the parent control of the supplies as children learn to how to use them appropriately.  Use a vinyl tablecloth to help catch drips and spills to help with clean up. Placing projects on a baking sheet or tray also helps define a work space. As a parent, I had to learn to let go and let the mess happen. Teaching boundaries helped too. Some of the boundaries can be location, instruction on where to apply crayons, paint, and etc; and clean-up. Teaching kids to clean teaches them to be responsible for themselves…and for us is just part of being a family.
These are the super supplies we can't live without: paper, glue, scissors, crayons, and a tray for a work space.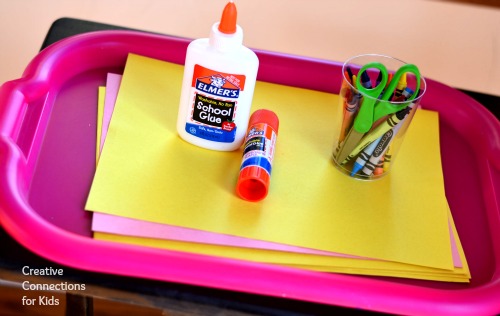 Favorite add-ins are sequins and wiggle eyes. We love them: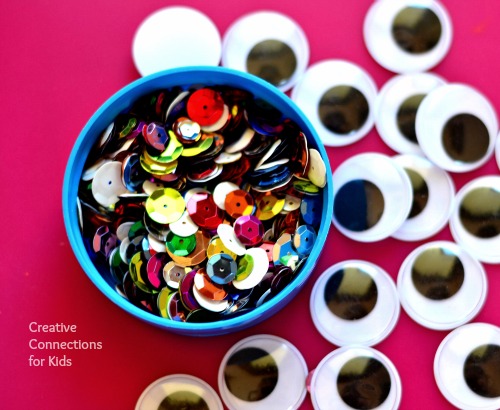 Grown-ups ~ please join in the fun. Take a few minutes to draw and color a picture, spread on the glue, and sprinkle on the glitter. I  promise, it doesn't matter what it looks like! Your child won't remember your artwork, they will remember the special moments together and the fact that you took time to be with them.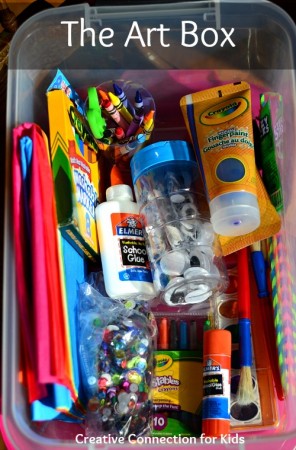 For more learning fun connect to CCK on Pinterest and Facebook!
We are pleased to be linked to this fun sites!